About Equine Architect, Joe Martinolich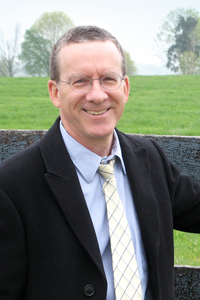 Joe Martinolich grew up on Long Island, New York. After graduating from Arizona State University, he practiced in Phoenix and upstate New York before moving to Kentucky in 1996. While experienced with a wide variety of architectural building types, Joe was led to a passion for equine design through his wife Pam's longstanding interest in horses. Joe's first equine project was a two-stall barn for the family horse in their upstate New York back yard.
Joe enjoys designing barns because of the creative personal collaboration it generates between him, the client, and the particular needs of the project. Horsemen make excellent clients because of their enthusiasm for their horses, whether as their profession or their hobby, and Joe is always eager to help channel that enthusiasm into a successfully designed building that works for both the people and the horses that use it.
When not working, Joe enjoys golfing, cooking, and spending time with his family and two dogs. He is also an avid fan of English Premier League football as long as Arsenal is winning. He thinks that every day is a good day when he gets to draw.
Prior to establishing his own design and planning firm in Lexington Kentucky, Joe worked at CMW Architects for 17 years, including serving as a Principal in the firm and Director of Equine Architecture. Joe has designed and planned equine facilities throughout the United States and internationally including projects in the United Arab Emirates, China, Canada, Mexico, Brazil and the Caribbean.
Have questions about a project or other equine facilities?
Phone: 859-221-3813
E-Mail: joe@jmmarchitecture.com